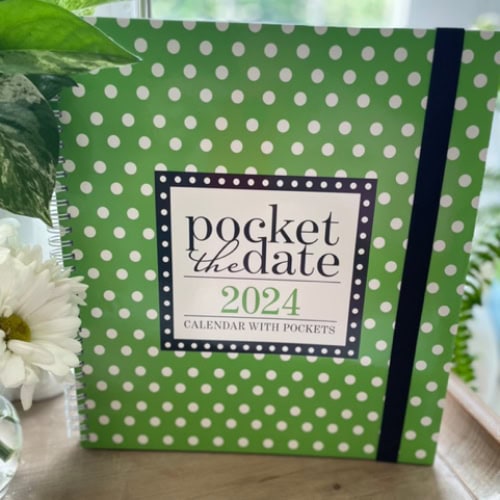 $29.75 + $6.00 for standard shipping
Pocket the Date Calendar
Presenting the perfect place for all your planning. The January 24 to January 25 calendar features a pocket for each month of the year, allowing you to stay organized when on the go.
Large pockets on each page to accommodate notes, bills, invitations
Matching Vibrant PTD Elastic Band, attached for security and easy handling
Stronger wire binding, reinforced for a better hold
Two additional notes pages, contact and address page
Major holidays noted
10.25″ x 11″ 13-month calendar
Durable cover with pockets on inside front and back cover


I discovered your wonderful calendars years ago at Stationer on Sunrise in Palm Beach, and every year since, as soon as I returned to PB, I would head there and get a calendar.  I was so distraught (!) last year when I discovered that they were all sold out at the Stationer, and would not be able to get any more.  A friend of mine, who I had given a calendar the previous year, went on a nationwide hunt to find one for herself and me.  We felt like we had found the treasure at the end of the rainbow when she managed to find two!