The PTD Planner Lowdown
Tried, true and tested, our 10.25″x11″ spiral bound planner with pockets is back with favorite mainstays and additional perks to help ensure your plans are perfectly placed – at home, in the office, or on the go. With vibrant colors, this year's PTD is already a fast-seller, so be sure to put your order in quickly!
Have no fear of pages flying open, or bills scattering – we've added a flexible elastic fastener (custom color matched, naturally!) to secure your Pocket the Date planner in style. In addition, we know how important extra note space can be, so we've given you pages for addresses and daily notes, exclusively for jotting down your most important items.
Sturdy Cover
Our laminated cover helps defray spills and bends, keeping a lid on your precious items!
Spacious Pockets
Room for invitations, bills, notes to keep your important items with you on the go!
Matching Band
Our Vibrant PTD Elastic Band keeps it all together, helping hold your calendar firmly in place!
Perfect Gift
A great gift for teachers, parents, executives and brides – never misplace a date or paper again!
Can I Find The Pocket The Date Planner In A Store Near Me?
We're proud to partner with select stockists in the US and around the world. Please visit our stores page for a details lists of retail stores.
Can you ship to me?
We currently ship to the US.  All orders are processed in 5 business days, unless otherwise noted. Please remember that this handling time is in ADDITION to shipping time.
All shipping costs are based solely on weight and destination and provided directly by the shipping provider.
How can I pay?
Pocket the Date accepts Visa, Mastercard, Discover and American Express via PayPal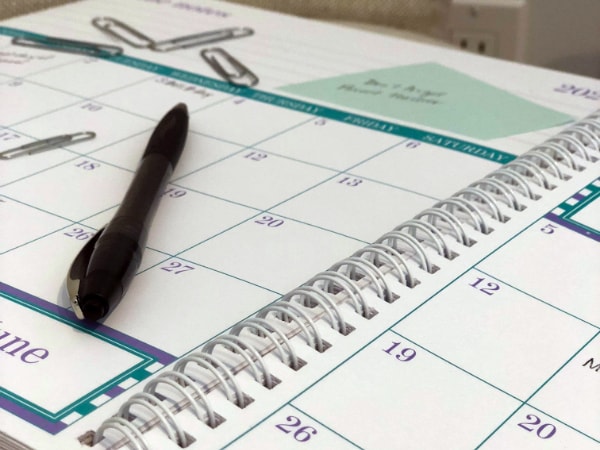 Oversized Pockets
Pocket the Date was built for function. Our unique system features oversized pockets on each page to accommodate notes, bills, invitations. Slide them in the appropriate calendar month to ensure you keep yourself together.
Matching PTD Fastener
Our matching PTD Elastic Band, crafted for security and easy handling. Worry no more – pages stay closed so your important documents won't go flying everywhere or wind up in the dregs of your satchel!